SPS offers a line of standard Capellini deep hole grinding products and custom deep hole grinding solutions
SPS Spindle is your source for Deep Hole Grinding Spindles from Capellini Electrospindles. Designed to meet the needs of complex hydraulic cylinders and aircraft landing gear applications, these deep hole spindles maximize grinding capacity and finishing quality. The ability to safely and easily change the dimensional characteristics of the grinding unit while keeping the motorized component fixed in the machine allows users to quickly and effortlessly retool the machine while switching from one format to another. This is possible thanks to the automatic detection system which automatically enters the speed and power limits into the machine CNC.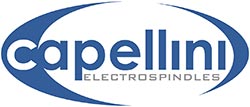 Easy to Install
Deep Hole Grinding Spindles from Capellini are compact and easy to install. The motor housing includes reference planes orthogonal and/or parallel to the rotation axis, allowing the unit to be aligned with other machines' axes without the need for expensive gauges.
Quills Made with Carbon Fiber Shaft Technology
The quills used in Capellini's Deep Hole Grinding Spindles are made with carbon fiber shaft technology to deliver greater stiffness and avoid bending. This technology maximizes bore length capacity in deep-hole grinding applications from 6xD to 14xD. The anchoring system of the quill to the motor unit works with a conical centering system that provides perfect alignment to the motor axis, allowing them to be changed quickly. The large dimensional anchoring surface guarantees a high rigidity that helps the fixing of most demanding quills.
Designed to Integrate with Coolant Pipes
A lot of care and detail has gone into the creation of the new Capellini Deep Hold Grinning Spindles. Each quill has been designed to allow anchor coolant pipes to be aligned to the wheel properly. The pipes can be optimized onsite to match the unique dynamics between the workpiece and wheel on each application.
Tools and Accessories
Capellini Deep Grinding Spindles integrate with a variety of tools and accessories that guarantee the perfect coupling of parts, pre-balancing dynamics, and correct assembly and disassembly. These accessories can be customized to meet each customer's needs while staying in compliance with existing technical standards.
Custom Deep Hole Grinding Solutions
If one of our Capellini Deep Grinding Spindles does not meet your needs, we offer custom deep hole grinding systems using the latest spindle technology to achieve a solution that will meet your application's exact specifications. SPS has custom deep hole solutions that are being used in the field today.