A UNIQUE PARTNERSHIP THAT DELIVERS TRUE VALUE TO CUSTOMERS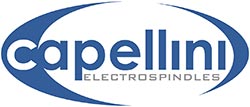 To better serve our customers, SPS Spindle has forged a partnership with Italian spindle manufacturer, Capellini Electrospindles. Located in Piacenza, Italy, Capellini is a global leader in the manufacturing, service, and repair of machine tool spindles and motors, including direct motorized synchronous and asynchronous spindles used in milling, turning, ID grinding, and OD grinding applications. Along with this range of electrospindles, Capellini offers precision motors for various machine tool driving applications, belt driven spindles from large workheads, and long barrel deep-hole grinding spindles.
SPS Spindle meets the needs of U.S. companies presently using European machinery with Capellini machine tool spindle systems by providing expert spindle repair services and new spindle products. Our technicians have received extensive training through Capellini and we have expanded our customized tooling capabilities and upgraded our testing and inspection systems to meet the high standards required to sell and service Capellini products. Our collaboration includes a joint-manufacturing partnership designed to better serve customers with competitive pricing and quicker turnaround times. Select custom spindle products are developed and engineered in Italy by Capellini and then manufactured and assembled in the U.S. by SPS Spindle.
The expertise SPS Spindle has gained through our partnership has established us as a leader in the spindle industry. Whether you need expert service on a Capellini spindle, a product from the Capellini catalog or a custom-built solution, make SPS Spindle your first call.
THE STORY OF CAPELLINI ELECTROSPINDLES
The spindle is the heart of machine tool. Accuracy, high-level performance and functionality are necessary prerequisites. Capellini is organized so that every component is manufactured in accordance to these specifications. The headquarters consists of a 2500 square meter facility made up of 5 departments:
DESIGNING utilizing high level software and advanced 3D CAD instruments
MACHINING which allows flexibility in the process in order to manage all pieces during manufacturing.
FINISHING AND GRINDING carried out in a climate-controlled environment for the
highest accuracy.
ASSEMBLY in a separate and supervised area to grant quality and efficiency
TESTING where the product is tested according to the company's high quality standards.
The company utilizes a metrology laboratory, with temperature controlled to 20°C, crucial to avoid metal deformations and to carry out measurements with the utmost accuracy and reliability. Capellini makes use of advanced softwares for production management so as to supervise and plan each stage of the manufacturing process, granting the shortest delivery time.